Ich habe im Jahr 2016 das OCR Forum "Muddyface" online gestellt und freue mich sehr über seine Beliebtheit bei den Hindernisläufern.
Muddyface ist eine echte Diskussionsplattform für Hindernisläufer die etwas mehr "Tiefgang" als bei den klassischen Social Media Anbietern bietet. In dem Forum werden OCR Themen ausgiebig diskutiert und durch die Nutzer wertfrei von allen Seiten beleuchtet.
Das ist gerade für Neulinge der Sportart ein echter Mehrwert, aber auch alte Hasen lernen immer noch etwas dazu.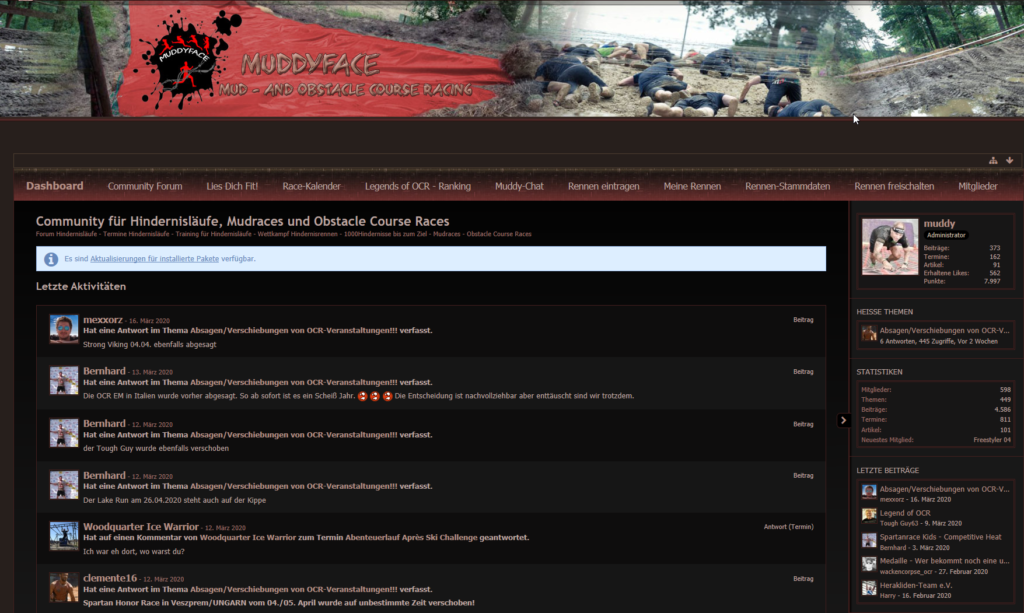 Legend of OCR
Eine beliebte Aktion haben wir 2017 ins Leben gerufen. Unter dem Titel "Legend of OCR" belohnen wir die besonders fleißigen Hindernisläufer, eben die Legenden dieses Sports. Die Athleten können sich drei verschiedene Medaillen holen, wenn sie 1000, 2500 oder 5000 Hindernisse bei offiziellen Hindernisläufen überwunden haben. Es zählen jedoch nur die "offiziell" veröffentlichten Hindernisse.
Die Regeln:
In jedem OCR-Rennen überwindest Du eine Vielzahl von Hindernissen um ins Ziel zu kommen. Ab jetzt bringt Dich jedes dieser Hindernisse näher an die Legend-Medaillen. Für jede dieser Medaillen brauchst Du eine gewisse Mindestanzahl von Hindernissen, aber Vorsicht! Dir wird nichts geschenkt, die Legend-Medaillen sind die am Schwersten zu erreichenden Medaillen weltweit, denn es kann Jahre dauern, bist Du sie Dir verdient hast!

Jedes OCR-Rennen veröffentlicht im Vorfeld die Anzahl seiner Hindernisse. Für Dich zählen nur die offiziell, auf der Website veröffentlichten Hindernisse mit einer maximalen Hinderniszahl von 100 pro Rennen! Sollte die Hinderniszahl nach oben offen gehalten werden (z.B. 25+), so zählen die angegebenen Mindesthindernisse (in diesem Fall 25). Die Hindernisse zählen nur, wenn Du das Rennen erfolgreich beendest. Bei Abbruch des Rennens kannst Du Dir keine Hindernisse gutschreiben!

Hier geht es um dauerhafte Leidenschaft, deshalb gibt es keine Begrenzung der Zeitperiode innerhalb derer Du die Hindernisse sammeln musst. Du hast also Zeit, aber halte Dich ran! Das Leben ist kurz!

Es können keine, vor dem 25. Oktober 2016 bestrittenen Rennen gemeldet werden. Ab sofort kannst Du anfangen!

Jede Meldung wird durch uns geprüft und freigegeben. Das wird die hohe Qualität der Aktion sicherstellen.
Mitmachen kann selbstverständlich jeder OCR Läufer!
Also….. schaut mal bei Muddyface vorbei und macht mit in der großen OCR Community!