While there are people who are already talking about the "Meta Universe", i.e. a digital world, many people are already increasingly losing their ties to the real world.
Teenagers and young adults in particular spend many hours a day looking at screens of all kinds and consuming digital content. From smartphones to tablets, notebooks to TVs, our eyes and brains are constantly flooded with intense stimuli.
We quickly feel exhausted, we spend valuable time online, and we become lonely even though we have more and more digital "acquaintances".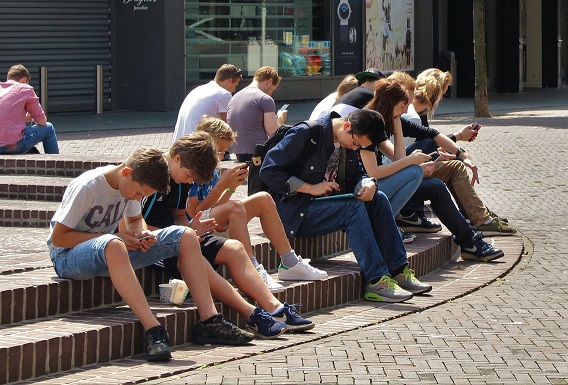 Es wird Zeit etwas dagegen zu tun!
I believe that every person can change the world with their actions! Make your life through meaningful actions (challenges) to something special and lasting! Make yourself immortal!

We want to plant one million trees worldwide without begging for donations! Uwe Kauntz
A new challenge every Monday and Thursday! Stay informed!
What is "Digital Detox"?
If you understand the term somewhat provocatively, digital detox is a detoxification from digital media. But "detoxing" can be very different and take place at various stages. Conceivable here are, for example:
Complete renunciation of all digital media during a certain period of time (e.g. during a multi-day hike)
Abstaining from a single type of digital consumption (e.g. "No TV for a week")
Refrain from specific use of a concrete, digital application (e.g. "no online games" or even "one week without social media" etc.).
You can already see that the time period and the type of "Digital Detox" plays a big role. For this reason, we have decided to limit the awarding of the Life-Score points very flexible in this challenge.
Why "Digital Detox"?
The main reason why you should join the Digital Detox Challenge is to take control of your own life. Smartphone, tablet, TV and co. should facilitate your life as a servant, not determine it!
The point is to find an optimal strategy for dealing with digital media. It's not about doing without completely, because digital media also bring you many advantages.
Rules and Life Score points for the Digital Detox Challenge
First, you should actively find out what is good for you and how far your renunciation should go. The old principle "the proof of the pudding is in the eating" applies here. For this reason, we recommend that you start with a week of "Digital Detox". During this week you will have many "aha experiences" and you will realize how dependent you are on digital media. But it will be worth it for you! Maybe you can do this challenge with your family or friends. Then the added value is higher and you can talk about it.
Full abandonment of digital media
A full renunciation of digital media for a certain period of time is a great experience. Imagine you had no TV, no smartphone, no tablet and no notebook for a day. What would you do? How would you use your time?
If you want to go that far, it's really hard, but it's an incredibly intense experience. But you have to plan for that.
Rule:You completely abstain from any form of digital media for at least one day (24 hours).
| | | | |
| --- | --- | --- | --- |
| Logo | Name | Life-Score points | Note |
| | Digital Detox - Total renunciation - One day | 20 | Any day within a week |
| | Digital Detox - Total renunciation one week (7 days) | 100 | A whole week |
If you decide to do this forever (or regularly), please join our challenge "Master of Digital Consumption"!
Abandonment of a single, digital medium
You do without a single digital medium for at least one week without increasing the consumption of another medium. For example, try to live completely without TV for a week. But you shouldn't just compensate with more cell phone consumption, otherwise it won't work! Your goal should be to assess whether you can do without this medium, whether you should cut back or whether your current use is okay.
Rule: You do without a specific digital medium for a week. Of course, you can test the renunciation of different media in different weeks.
| | | | |
| --- | --- | --- | --- |
| Logo | Name | Life-Score Points | Note |
| | Digital Detox - One Medium, One Week | 50 | full abandonment of a medium one week |
Abandonment of a specific application
Imagine doing without Instagram, Facebook, WhatsApp or your favorite game on your smartphone for a whole week. The point is to take a break from your favorite application and use the time you save in a different way. How much time do you save? Does your life get worse? Try it out, for one week!
| | | | |
| --- | --- | --- | --- |
| Logo | Name | Life-Score Points | Note |
| | Digital Detox - application renunciation one week | 30 | Give up a favorite application for a week |
Marbles for the Digital Detox Challenge
For the Digital Detox Challenge, you can get the beautiful marbles in yellow. These have the following sizes:
20 Life Score points - Two yellow marbles with a diameter of 16mm
30 Life Score points - Three yellow marbles with a diameter of 16mm
50 Life Score Points - One yellow marble with a diameter of 20mm
100 Life Score Points - One yellow marble with a diameter of 25mm
Wenn Du die Murmel(n) haben möchtest, dann lies bitte weiter ….
So you can take part the "Digital Detox Challenge"!
Melde Dich kurz mit dem unteren Formular an (zumindest wenn Du Interesse an den Murmeln hast), ansonsten kannst Du einfach so mitmachen. Beides wird Dir gut tun 😉
The first thing you need to do is make a firm resolution to take part in one of the Digital Detox Challenges described above and follow through consistently. This is not easy, because addiction often plays a big role. Once your mind is made up, go for it and be brave.
Wenn Du den gewählten, digitalen Verzicht geschafft hast, dann füll bitte das untere Formular nochmal aus, diesmal jedoch mit der Mitteilung, dass Du die Challenge geschafft hast. Wir schicken Dir die wohlverdienten Life-Score Punkte und die Murmel zu.
If you'd like to cover the Challenge on social media, tag us at @timeless_challenge and add the appropriate hashtag (see below).
The Digital Detox Challenge in Social Media
Kind of weird to write about the Digital Detox Challenge on social media, but anyway, of course, we're giving you the opportunity 🙂
Digital Detox Challenge in Facebook
We invite you to join our group for an informal exchange about this challenge. "Personality" in Facebook.
#timelesschallenge
#tcdigitaldetox
Book recommendations for Digital Detox
The topic of digital overstimulation is complex and there are great books on how to completely avoid certain digital media or how to use them in a very targeted and conscious way.
Here are a few book recommendations on Digital Detox: