In this case, "AD" means "Anno Domini", i.e. Day of the Lord. For this challenge, this means that the current year, i.e. the number after Christ's birth (a.d.) is decisive. In the year 2022, for example, this would be 2022.
And the challenge is just as simple. You run or cycle the corresponding year (e.g. 2022 exactly 2022 kilometers) and collect Life Score points for the Timeless Challenge. It couldn't be easier, could it?
Aber wir wissen natürlich, dass Du eventuell ein Einsteiger im Laufen oder Fahrradfahren bist und Dich ein so großes Ziel vielleicht demotiviert. Deshalb haben wir die AD-Challenge gestaffelt, so dass für jedes Leistungsniveau etwas dabei ist.
A new challenge every Monday! Stay informed!
We want to plant one million trees worldwide without begging for donations!

Uwe
Rules
You run or cycle the respective annual number of kilometers within a calendar year (i.e. in the period between January 1 and December 31 of a year). In 2022, that's at least 2022 kilometers to earn the full number of Life Score points. But the AD-Challenge also includes staggered, smaller challenges that will still be good for you and your health. But, You must decide before whether you want to do the full AD Challenge or a smaller Challenge. Unfortunately, both in the same period does not work.
In this challenge, only kilometers run or cycled count. But again, you do this for yourself and check it yourself. We recommend a running app (Strava, Runtastic etc..).
Life-Score Punkte für die AD Challenge – Läufer – Laufchallenge
Um diese Laufchallenge zu meistern musst Du ein ganzes Jahr lang fleißig laufen und Dich bewegen. Das Tempo spielt keine Rolle. Dem entsprechend kannst Du auch viele Life-Score Points.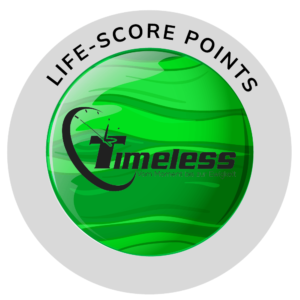 | | | | |
| --- | --- | --- | --- |
| Challenge Logo | Name | Life-Score Points | Note |
| | AD Challenge | 500 | Can be combined with other challenges, but not with other challenges of the A.D Challenge |
| | 1111km in one year | 250 | You run a half marathon every week (so 1111km per year) |
| | 505km in one year | 100 | You run every week about ten kilometers (so 505km per year) |
Life Score Points for the AD Challenge - Bike
To manage this challenge you have to use your bike diligently for a whole year and move. Also with the bike you can earn Life-Score Points.
| | | | |
| --- | --- | --- | --- |
| Challenge Logo | Name | Life-Score Points | Note |
| | AD Challenge Bike | 250 | Can be combined with other challenges such as the AD Challenge for runners, the 1111km Challenge and the 505km Challenge. |
Marbles for the A.D. Challenge
For the A.D. Challenge you can get the beautiful marbles in green. These have the following sizes:
100 Life Score Points - One green marble with a diameter of 25mm
250 Life Score points - Two green marbles with a diameter of 25mm and one with a diameter of 20mm
500 Life Score points - Green marble with a diameter of 35mm
Wenn Du die Murmeln haben möchtest, dann lies bitte weiter….
How to participate in the AD Challenge
Register briefly with us using the form below (at least if you're interested in the marbles), otherwise you can just go for it. Both is healthy
Nun musst Du laufen oder radeln. Viele Kilometer weit! 🙂
We recommend that you use an app that allows you to track your mileage. Solutions such as Strava even offer you the functionality of displaying your annual mileage by default. Perfect, right?
Wenn Du die gewünschte Anzahl an Kilometern geschafft hast musst Du das unten stehende Formular nochmal ausfüllen, uns diesmal jedoch mitteilen, dass Du die Challenge geschafft hast. Wir melden uns dann bei Dir!
If you post your pictures regarding the challenge on Instagram, Twitter, etc. anyway, then tag us @timeless_challenge and add the appropriate hashtag (see below).
The AD Challenge in social media
If you like to share your progress on social media, then of course you can do that wonderfully with this challenge.
Facebook Group for the AD Challenge
We invite you to join our group for an informal exchange about this challenge. Sport and health in Facebook.
We have prepared the following hashtags for you for Instagram, Twitter and Co:
#timelesschallenge (show that you like this challenge)
#tcadchallenge2022 (you can change the year to match the current year)
My experience with the AD Challenge
I've been trying to run the year as mileage for years now. There were years in which I made it and there were years in which it (mostly just) didn't work out. Various factors play a role. But the most important are health and motivation. As soon as you miss a few weeks due to an injury or another forced interruption, it becomes difficult to master this challenge.
This note is close to my heart:If you are a beginner runner, this challenge is not for you. Increase your weekly mileage consistently but sensibly for a year and only start this challenge when you have been running at least 35 kilometers a week on a regular basis. Your body (especially your tendons and ligaments) needs time to adapt to the load.
Gift ideas for runners and cyclists
Runners World Cookbook
I really like to use this cookbook, because the (mostly healthy) dishes can be prepared in a short time and taste good. The time for longer cooking I go but rather run 🙂
Fun food for runners und Radfahrer
I have already given the noodles as a gift and thus ensured a good mood with the recipient 🙂r
Compression socks and running socks
To avoid blisters and speed up recovery, I recommend good running socks or even compression socks. I like to use the latter especially for trail running.
Empfehlenswerte Laufbücher