Ich freue mich, dass die Presse in der Vergangenheit bereits häufiger über mich berichtet hat. Im Folgenden findet ihr eine Auswahl an Presseberichten über mich.
Aktion "100Summits2022"
Im Jahr 2022 steht für mich die Aktion "100Summits2022" im Vordergrund. Ich möchte 100 Gipfel in einem Jahr besteigen und jeder kann mitmachen. Ich möchte damit sowohl Menschen bewegen als auch für mein Wiederaufforstungsprojekt "Trees4Breeze" werben. Hier findest Du die Medienberichte dazu:
Berichte in der digitalen Presse
November 2022 – Münchner Merkur "Der 100 Gipfel Stürmer ist am Ziel" works
14. Januar 2022 – Münchner Merkur "Der 100-Gipfel-Stürmer"
Berichte in der Printausgabe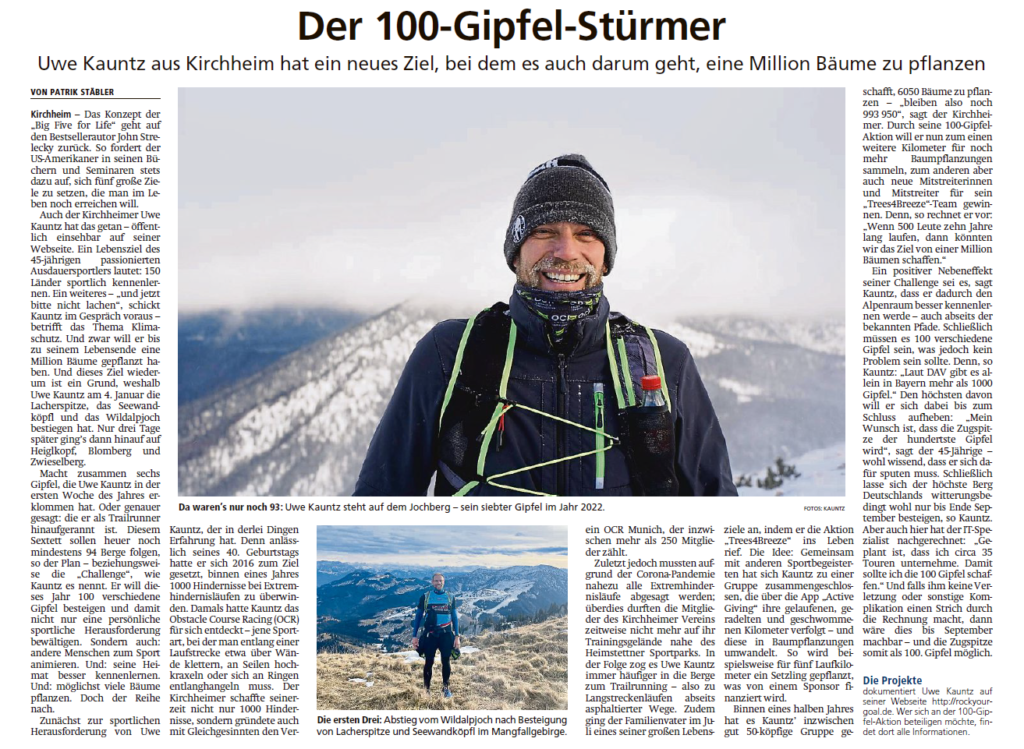 Aktion "1000 Hindernisse statt der Couch"
Im Jahr 2016 war mein vierzigster Geburtstag. Ich wollte Couchpotatoes dazu animieren sich aufzuraffen und sich mehr zu bewegen. Deshalb startete ich die persönliche Challenge "1000 obstacles instead of the couch".
Ich habe mich sehr gefreut, dass die Presse fleißig über diese Aktion berichtet hat.
Berichte in der digitalen Presse
14. Januar 2016 – Münchner Merkur "Extrem Hindernisläufer will 1000 Hindernisse überwinden" works
12. April 2016 – Sauerland Kurier "Uwe Kauntz startet mit besonderem Anliegen beim Hindernislauf Runterra" works
24. Dezember 2016 – Münchner Merkur "Nur noch 6 Hindernisse bis zur 1000er Marke" works
Berichte in der Printausgabe