Trees, climate, running, OCR and sports
We can see quite clearly that a change in climate is currently taking place on our planet. Our summers are getting hotter and in many parts of the world temperatures above 45 degrees Celsius are no longer uncommon. In Europe, there are more and more extreme weather situations that claim many victims.
At the same time, we see that in Brazil, the Congo, Indonesia and other countries, the rainforest is being cut down more than ever before, and in Australia, Siberia and western North America, the forests are burning on a large scale. This worries all of us because as runners we know what a positive microclimate a tree or forest can create. In the forest, we feel like we can breathe more freely, it's cooler, and there's always a light, fresh breeze with a pleasant forest scent. I love walking among trees, I love trees and I love this cool breeze in the forest! That's exactly why our action is called "Trees4Breeze".
Let's plant a million trees together!
Every kilometer and every calorie burned, one more tree
How you can contribute to global reforestation?
Easy!: Put on your running shoes and start running. Lock yourself over the Active-Giving-App join the "Trees4Breeze - OCR for a better planet" team and a new tree will be planted for every seven kilometers run. But it's not just running that counts.......
Yoga: 250 kcal = 1 tree
Running: 7,5 km = 1 tree
Cycling: 15 km = 1 tree
Walking: 15 km = 1 tree
Swimming: 1 km = 1 tree
Other Workouts : 250 kcal = 1 tree
The app manages everything via GPS tracking and there is no effort on your part. If you are a user of the Strava app, you can have the kilometers tracked via this app automatically synchronized with Active Giving. Every tracked kilometer counts to plant as many trees as possible, so start running and give something back to nature step by step!
Eine kleine Ergänzung zu dem Video: Du hast die Möglichkeit für ein Team zu laufen. Und hier möchten wir Dich herzlich in unser Team einladen.
Become a part of our "Trees4Breeze" team
Follow these simple steps and help help the forest.
• Step 1: Download the Active-Giving-App from App Store oder Google Play .
• Step 2: Create your runner profile and don't forget to link up with Strava (if you are member of Strava)
• Step 3: Tap on the "Menu" tab.
• Step 8 : Tap on "Team".
• Step 5: Enter our code: WEAVER
• Step 6: Tap on "Activity" at the bottom of the display.
• Step 7: Run and track your runs/workouts
• Step 8 If you want it, spread the word and draw attention to the action with the hashtag #trees4breezeocr
On the app's home page, you can see what you've already accomplished yourself, and on the team page, you can track the progress of the entire "Trees4Breeze" team. I'm very excited to see what we can achieve together as OCR runners!
It's fun and it makes sense!
Funding the trees with the Timeless Challenge
Our team needs a sponsor who will provide the money for each tree seedling. This is not easy, so we decided to do this ourselves in the future. For this purpose we have established a partnership with the Timeless Challenge had an idea that adds a lot of value for the participants, is fun to do, and whose revenue can (hopefully) cover all the costs of the tree seedlings.
This means: We keep ourselves fit as a Trees4Breeze team, collecting kilometers (or calories) on the basis of which new trees are planted by our partner Eden Reforestation Projects worldwide. We finance these with the proceeds of the Timeless Challenge. The whole thing is handled by the Acitve Giving App.
Why Active Giving?
Active Giving has a simple solution on how we can all do something for the planet and still pursue our passion (running). So it's kind of as simple as "putting one foot in front of the other" 🙂
Active Giving partners with companies and events that promote healthy lifestyles while helping the planet. These companies transform our (they call us "Active Givers") into planted trees by financing these trees and having them planted worldwide by the Eden Reforestation Project.
So far, almost 800,000 trees have been planted thanks to Active Giving. And with every step that is run, there are more. The app is the link between the funding companies, the runners and the non-profit organizations responsible for planting the trees. It tracks your progress so that every kilometer you run becomes a planted tree.
The Trees4Breeze team runs in cooperation with the Eden Reforestation Projects. From 01.06.2021 to 31.12.2021 the seedlings were paid by our partner brose (manufacturer of eBikes). From 01.01.2022 to 30th April 2022 the company "Your Super" was our partner. In the future, the Timeless Challenge will sponsor the trees.
The goal of the Eden Reforestation Project is to restore the ecological balance on earth through reforestation. This helps both nature and people, as it creates a great many jobs in sustainable agriculture and forestry, especially in developing countries. The organization hires local people and shows them how to properly plant native and promising tree species. The villagers thus become "guardians of the trees."
Since its beginning, Eden has planted more than 485 million trees worldwide - in Ethiopia, Madagascar, Nepal, Haiti, Indonesia, Mozambique, Kenya and Central America. Their goal is to plant 500 million trees by 2025. Let's help them achieve this with fun, our passion for sport and a good feeling.
Is Active Giving trustworthy?
Since many people participate in our Trees4Breeze group and thus sweat for new trees almost every day, I have a responsibility as team initiator. It is important to me that the sponsorship money really reaches the Eden Reforestation Projects. I want all those who participate in this campaign to have a well-founded feeling that they are doing something meaningful. Transparency is necessary for this!
For this reason, I wrote to both the sponsor, the app operators (Active Giving) and the planting organization (Eden Reforestation Project) to ask about the exact process. In doing so, the confirmation from the Eden Project was especially important to me. I wanted to know if funds for new trees were really arriving.
Therefore, I was very happy when I received the following answer: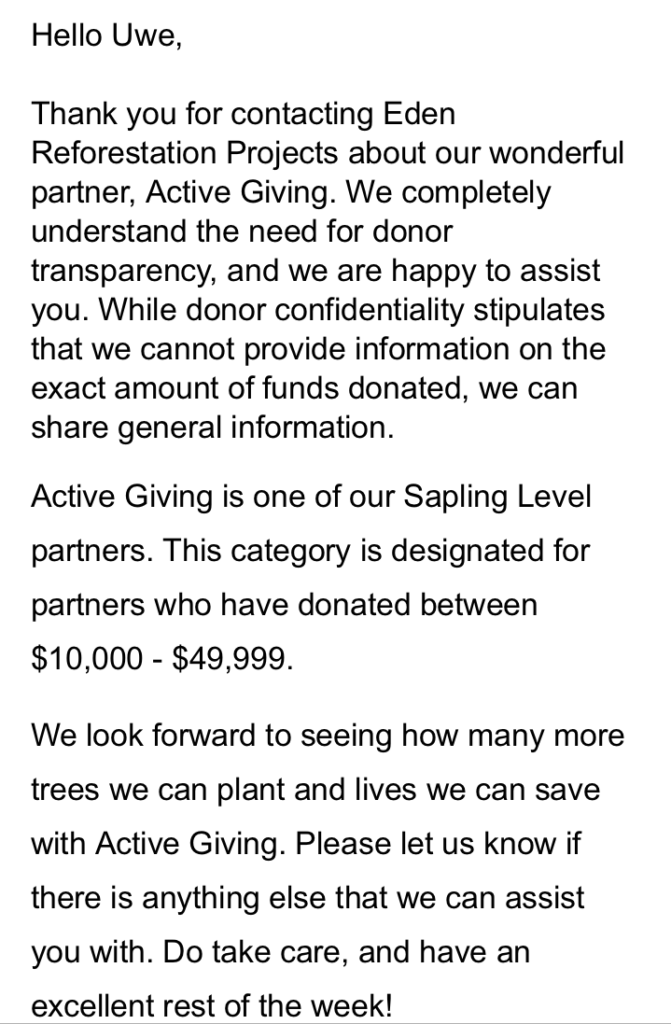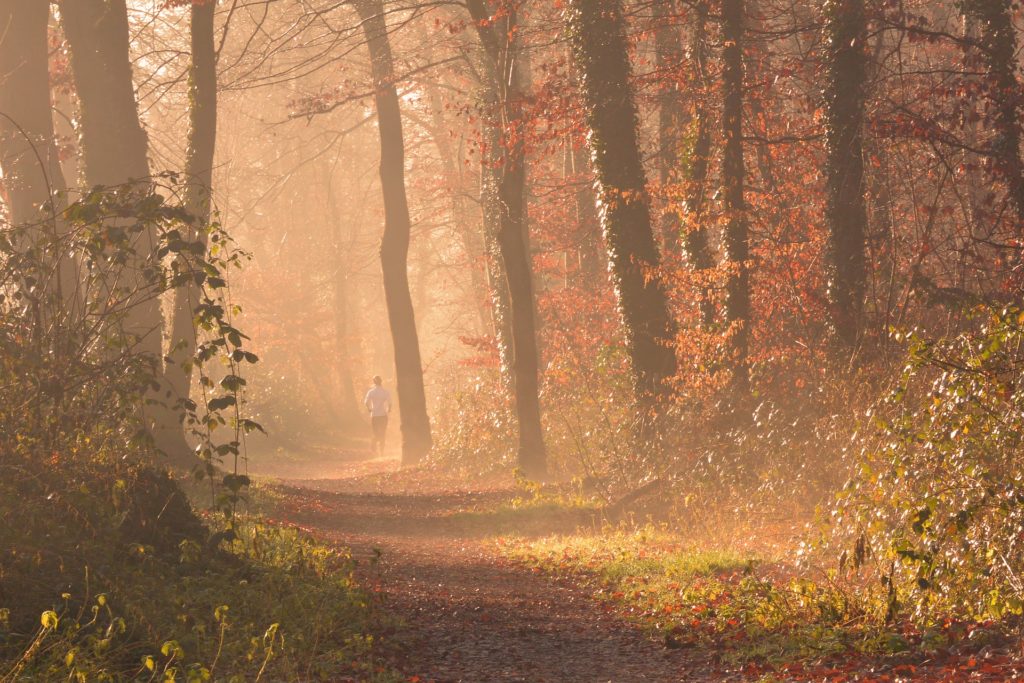 On a personal note, my Big5forlife4
Planting one million trees for the earth and its creatures is one of my five life goals, my "Big5ForLife4".
Trees create a cool and pleasant climate, just a cool breeze to breathe in for humans and animals! I love this incredibly pleasant air and want us to continue to enjoy it on our earth. Therefore "Trees4breeze". Under this project name we would like to help decisively that 1,000,000 trees are planted. I can't do it alone, but I can do it with your help. I show you a meaningful way and you help me. The added value belongs to all of us and all living beings on this earth.
Trees4Breeze on STRAVA
We have opened a Trees4Breeze Club on Strava and invite you to join.
So many trees have already been planted on our initiative -..Ticker..
10/25/2022 - More than 15,000 trees done!!!
We have now managed to collect more than 15,000 trees. Thank you to all of you who sweat for the reforestation by running, cycling and keeping fit in other ways. We are still 985,000 trees short of one million trees, but we are on our way to that goal!
08/24/2022 - We have already planted 13,685 trees!
Only 986,315 are still missing until one million! Ok guys, our team needs to get bigger 🙂
07/13/2022 - We have already planted over 12,000 trees!
With 60 group members, we have now planted over 12,600 trees. I think that's a great accomplishment! Keep it up! Let your friends know so that the team grows. 987.400 still open!
05/12/2022 The Eden Forest Project reports that the cost of planting a tree has unfortunately increased.
Therefore, unfortunately, you have to sweat a little more until a tree can be set. In my opinion, this is understandable, because prices are currently rising sharply worldwide and this does not stop at voluntary NGOs.
We were provided with the following info today:
" worksDear Active Givers,
We wanted to inform you that due to price changes in the tree model of our partner Eden Reforestation Projects, we will adapt the conversion of your activities from 1st May 2022.
As of today your contribution helped the plantation of 601,180 trees and provided 6,012 work days with Eden Reforestation Projects
We are grateful for your continued support and look forward to support the planting of thousands of more trees with you in 2022.
Your Active Giving Team" works
04/13/2022 - We planted 10,000 trees! How cool is that?
Today is a special day. Our Trees4Breeze team has now planted 10,000 trees. That's just wonderful! Now we urgently need to add new athletes to our team so that we can plant even more trees.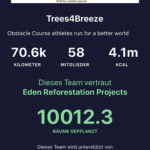 03.01.2022 - A new year with big goals begins - We already have more than 6000 trees! - New Sponsor!
I would like to wish you from the bottom of my heart a happy and healthy 2022. And right at the beginning of the year there is a lot to report.
Today we can be proud of over 6000 trees planted by us! I think, with a small team of 54 hardworking supporters, this is a very good achievement. I am already very excited about where we will end up in 2022!
We would like to welcome our new sponsor YOUR SUPERFOODS warmly welcome. YOUR SUPER is a great health food store in Berlin, but which also sells excellent products online. This company finances the trees that are planted on the basis of our sporting achievements. Thank you in advance for this!
THANKS! Keep up the good work! 6050 trees planted, up to one million remain 993.950!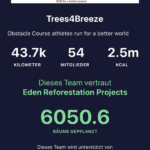 12/07/2021 - More than 5000 trees for reforestation by our team!!!
This is like an early Christmas present for me. Our team has already walked, biked, and run for over 5000 trees 🙂 And we are now 53 supporters in our community. 53 people who both promote their health through exercise and at the same time care for a reforestation of forests worldwide.
THANKS! Keep up the good work! 5041 trees planted, up to one million remain 994.959!
11/16/2021 - 4323 trees and 48 supporters!
It is not self-evident that people trust such actions, because there are many (also much unserious) reforestation initiatives on the net. That's why I am very proud that we already have 48 active supporters and this number is constantly growing. And these 48 people are very hardworking and diligently collect kilometers and calories. Keep it up! Our goal (one million trees) is very big, but it is also doable.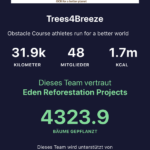 27.10.2021 - 3551 trees and 46 supporters of our action
06.09.2021 - 1635 trees after the first six weeks and (what pleases me at least as much) 43 people who support this small project with great passion. I just wish that many more people would recognize the value of this campaign and join in. It doesn't really matter whether you run, work out in the gym, hike or ride your bike. Whereby there are of course many, many more Advantages of cycling there. In any case, we are now missing 998365 trees to fulfill the big goal (one million).
05.08.2021 - I am mega happy! After just under two weeks, we already have 34 members in our group and have already enabled over 240 new trees! That means that there are still 999,760 trees missing until we reach the million mark! But we keep on running, cycling and sporting and invite you to join us. You can do a lot of good without money and ensure the reforestation of the world's forests.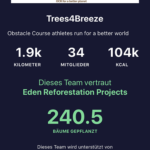 30.07.2021 - Exactly one week ago our "Trees4Breeze" team was activated. After one week, 14 people have already put their trust in us and are sporing for their health and for new tree seedlings! I am totally proud that we already have over 80! trees has been achieved. This means that "only" the following are still missing 1.999.920 🙂