Du hast bestimmt schon hunderte Liegestütze in Deinem Leben gemacht. Aber was passiert, wenn Du diese Fitnessübung täglich in Dein Leben einbaust? Finde es raus und mach mit bei unserer Challenge "Pushup your Life".
Es gibt sehr viele Pushup-Challenges und auch wir bieten Dir zwei verschiedene Stufen an, denn Du könntest ein Einsteiger sein oder jemand der bereits regelmäßig trainiert.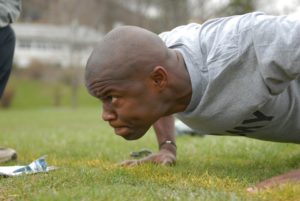 Regeln der Pushup your Life Challenge
In der Pushup your Life "Basic" edition trainierst Du 30 Tage lang Pushups. Du fängst mit zehn Pushups an und steigerst Dich jeden Tag um einen Pushup. Du musst die Pushups nicht zusammenhängend machen und Du kannst auf den Knien beginne, was etwas leichter ist. Am Ende des Monats machst Du täglich 30 Pushups und wirst deutliche Veränderungen an Dir selbst spüren.
Wenn Du schon regelmäßig Sport machst, dann mach die "Advanced" Version. Hier beginnst Du am ersten der 30 Tage mit 10 Pushups und steigerst Dich um jeweils 2 Pushups pro Tag. Somit machst Du am Ende des Monats ca. 60 Pushups.
Life-Score Punkte für die Pushup your Life Challenge
| | | | |
| --- | --- | --- | --- |
| Logo | Name | Life-Score Points | Note |
| | Pushup your life – Basic | 30 | 30 Tage Pushup, jeden Tag einen mehr |
| | Pushup your life – Advanced | 40 | 30 Tage Pushups, jeden Tag zwei mehr |
So kannst Du bei der Pushup your Life Challenge mitmachen
Melde Dich kurz mit dem unteren Formular an (zumindest wenn Du Interesse an den Murmeln hast), ansonsten kannst Du einfach so mitmachen. Beides ist gesund 😉
Wenn Du Einsteiger bist und fitter werden willst, dann fang mit der Pushup for Life "Basic" edition an. Nach 30 erfolgreichen Tagen kannst Du stolz auf Dich sein und uns das untere Formular nochmal ausfüllen, diesmal jedoch mit der Mitteilung, dass Du die Challenge geschafft hast. Wir schicken Dir die wohlverdienten Life-Score Punkte und die Murmel zu.
Genau so funktioniert das bei der Pushup for Life "Advanced" Challenge. Nur dass Du hier jeden Tag zwei Pushups mehr machen musst.
Diese Challenge ist ebenfalls ein Teil der Timeless Challenge!
I believe that every person can change the world with their actions! Make your life through meaningful actions (challenges) to something special and lasting! Make yourself immortal!

We want to plant one million trees worldwide without begging for donations!Uwe Kauntz
A new challenge every Monday and Thursday! Stay informed!
Die Pushup your Life Challenge in Social Media
Wenn Du über Deine Fortschritte in Social Media berichten möchtest, dann bieten wir Dir natürlich dazu die Möglichkeit.
Die Pushup your Life Challenge auf Facebook
We invite you to join our group for an informal exchange about this challenge. Sport and health in Facebook.
#timelesschallenge (show that you like this challenge)
#tcpushupyourlife